Become A Prolific Digital Writer With 5 Dead-Simple Frameworks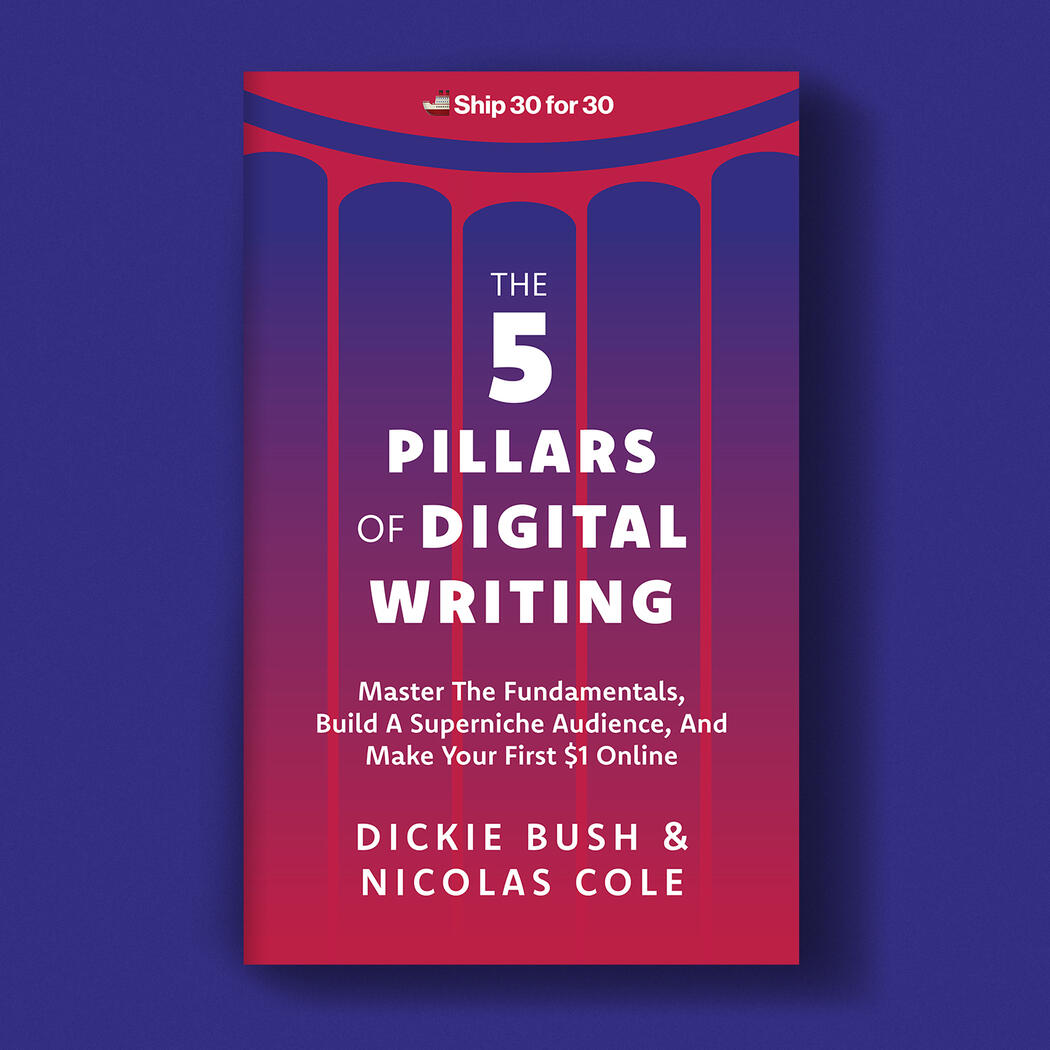 Available for $19.99 on December 30th.
But FREE if you download before then.
16,000 words.5 timeless frameworks.Everything you need to start building your Superniche Audience.
Ready to make your first $1 online?
Written by Dickie Bush and Nicolas Cole, the creators of 🚢 Ship 30 for 30 – the cohort-based writing course that has helped over 5,600 writers start writing online.
These frameworks are how we have...• Attracted nearly 500,000 followers on Twitter & LinkedIn
• Accumulated hundreds of millions of views
• Built the fastest-growing community-powered writing course on the Internet
Want to make sure this free eBook is "worth it" before you sign-up?
Here's everything that's inside:
Pillar 1: Your Daily Writing Habit: What's the secret to becoming a prolific writer? It all starts with your Daily Writing Habit. The key is to find your Sacred Hours, and intentionally block-off 90-120 minutes per day. We'll show you how! (And the results will astound you.)Pillar 2: Your Lean Writing Approach: The most effective Digital Writers are data-driven writers. They don't just hit publish. They test lots of small, "atomic" ideas, double-down on the ones that resonate most with readers, and ultimately become known for a niche they own.Pillar 3 Your Endless Idea Generation System: If you want to publish high-quality content, consistently, you need a system for generating quality ideas over and over again. We'll show you how to use The 2-Year Test to find your best ideas, and organize your ideas quickly and effectively for maximum engagement.Pillar 4 Your Irresistible Headline Formula: It doesn't matter how "good" your content is—you need to master the art of writing headlines. We credit our hundreds of millions of views to this simple checklist, and we want to give it to you.Pillar 5: Your Proven Formatting Techniques: Getting the reader's attention is 50% of the game, but the other 50% is keeping their attention all the way down the page. These formatting techniques make it easy for readers to fall into your writing, and make it impossible to stop reading!Bonus Pillar: Making Your First #1 Online: Chances are, you're sitting on a $100,000 digital product and don't even know it! Once you start to build your Superniche Audience, the key is to pay attention to the data and turn your highest-performing content into a digital product—that works for you 24 hours per day, 7 days per week, 365 days per year. This is how you begin to unlock total Digital Freedom.